Description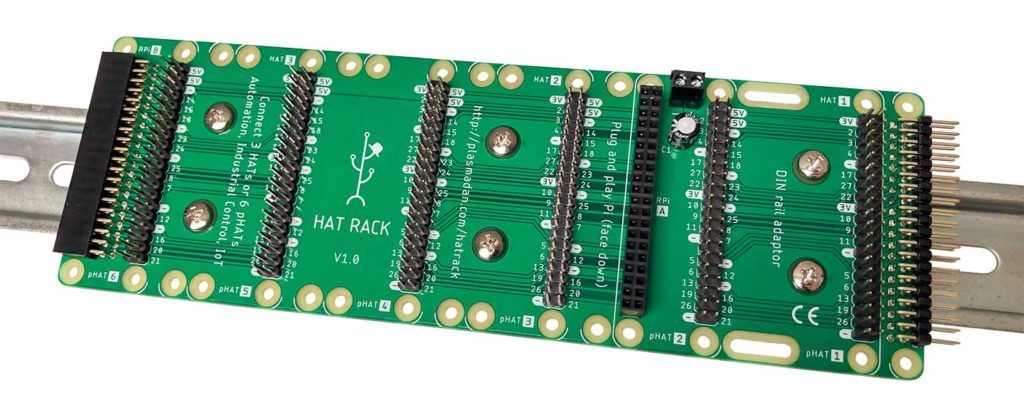 Stackable HATs have become the de facto standard in the Raspberry Pi community, but stacking HATs together can make them difficult to get to, awkward to maintain and can lead to excessive heat build-up.
The HAT RACK solves this by separating the stack into an easier to manage array. Each board is connected together in parallel which is perfect for I2C based HATs such as our 30A Relay HAT or Raspberry Pi's Sense HAT. The plug & play design allows you to create tidy, professional looking setups easily!
New for 2021: HAT RACK now has a little brother! The HAT RACK Mini.
Features
Connect 3 HATs or 6 pHATs
Plug & play Raspberry Pi or Pi Zero
Daisy chain multiple boards
DIN rail mountable
Optional external 5V DC power input
Smoothing capacitor provides stable supply
BCM pin numbering
Gold flash plated connectors

A single Raspberry Pi can be mounted upside down. No need for ribbon cables, just plug & play! Available as a kit, simply solder whichever headers / sockets you require for your project. Or buy an assembled unit with all the parts pre-installed.
External Powering
You can optionally externally power your boards. This may be necessary when using lots of HATs or pHATs as the Raspberry Pi may not be able to supply enough power to them. This will depend on the HATs being used. Low-power HATs can be daisy chained several times before external powering becomes necessary.
Configuring
The HAT RACK can be configured in loads of different ways. Each board supports 3 HATs or 6 pHATs with a Raspberry Pi or Pi Zero mounted in 1 of 2 positions.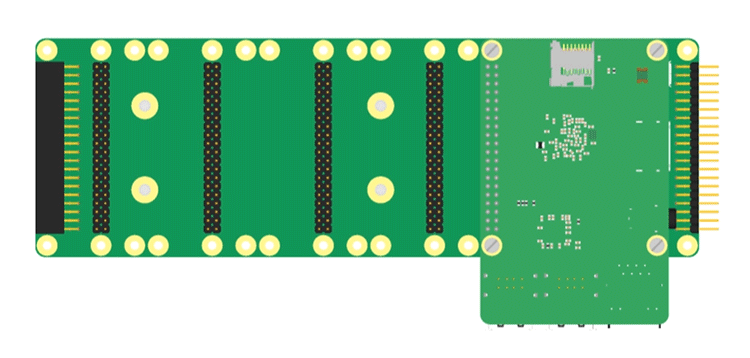 Device Compatibility
The HAT RACK is fully compatible with all 40-way Raspberry Pi models and clones.
| Device Model | Compatibility |
| --- | --- |
| Raspberry Pi 1 Model A+/B/B+ | ✔️ |
| Raspberry Pi 2 Model B | ✔️ |
| Raspberry Pi 3 Model B/B+ | ✔️ |
| Raspberry Pi 4 | ✔️ |
| Raspberry Pi 5 | ✔️ |
| Raspberry Pi Zero | ✔️ |
| Raspberry Pi Zero 2 | ✔️ |
| ATMegaZero | ✔️ |
| Asus Tinker Board | ✔️ |
| Banana Pi | ✔️ |
| Odroid | ✔️ |
| Orange Pi | ✔️ |
| ROCK Pi | ✔️ |
Connecting multiple HATs from different manufacturers can introduce pin conflicts which prevent your boards from working correctly. This usually only happens with HATs which are not designed to stack.
Compliance
UL 796 certified manufacturer
RoHS compliant (lead free)
CE & UKCA compliant (certificates)
You can find this and our other Raspberry Pi projects on our GitHub page.
Gerber Files
Available for download here.