Description
The HAT RACK Mini is the little brother to our HAT RACK board and is backward compatible! It supports one HAT / pHAT and can be mounted to a DIN rail using standard DIN rail adapters. It's ideal for home automation, Internet of things, or industrial control applications requiring multiple IO boards with a single Raspberry Pi.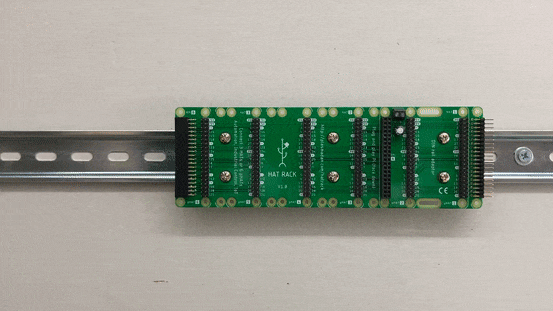 The right-angle headers and sockets allow multiple boards to be daisy-chained together to create an array of connected HATs and provide multiple connection options for a Raspberry Pi. No ribbon cable is required since the right-angle socket can support a Raspberry Pi directly.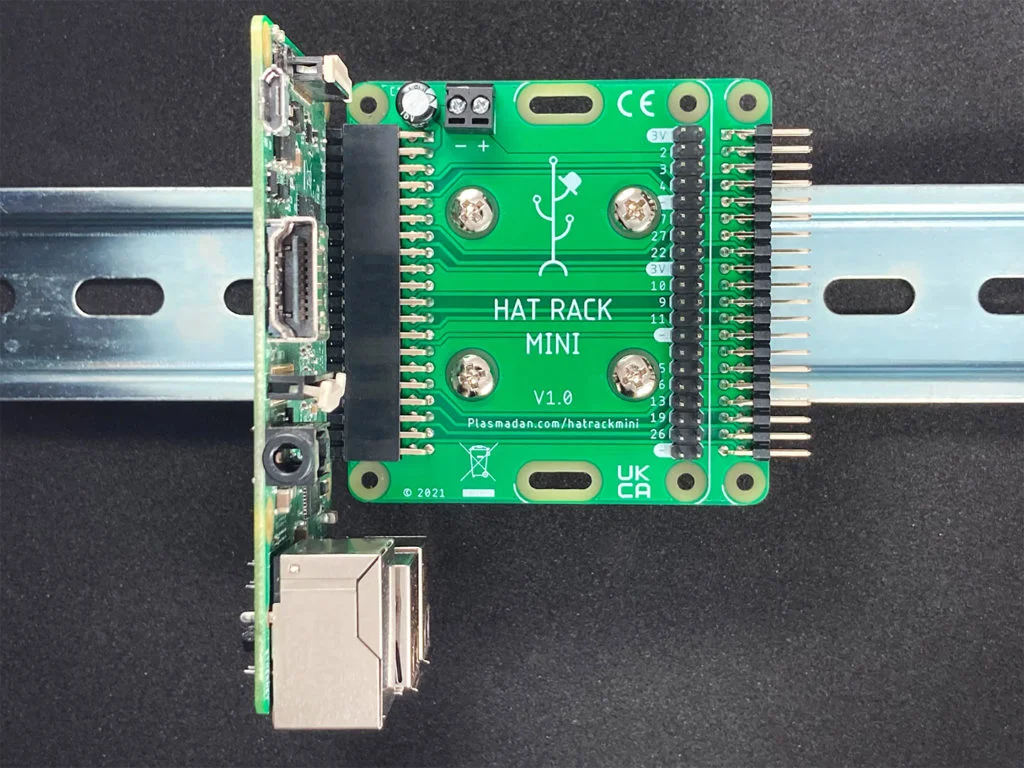 Features
Plug & play Raspberry Pi or Pi Zero
Daisy chain multiple boards
DIN rail mountable
Optional external 5V DC power input
Smoothing capacitor provides stable supply
BCM pin numbering
Gold flash plated connectors
External Powering
Just like the HAT RACK, the HAT RACK Mini includes an optional power input to allow the board(s) to be powered from an external 5V DC source. This can help in situations where the Raspberry Pi is unable to supply enough power to multiple high power devices such as relays. A smoothing capacitor ensures stable power delivery even when multiple boards are used.
Device Compatibility
The HAT RACK Mini is fully compatible with all 40-way Raspberry Pi models and clones.
| Device Model | Compatibility |
| --- | --- |
| Raspberry Pi 1 Model A+/B/B+ | ✔️ |
| Raspberry Pi 2 Model B | ✔️ |
| Raspberry Pi 3 Model B/B+ | ✔️ |
| Raspberry Pi 4 | ✔️ |
| Raspberry Pi 5 | ✔️ |
| Raspberry Pi Zero | ✔️ |
| Raspberry Pi Zero 2 | ✔️ |
| ATMegaZero | ✔️ |
| Asus Tinker Board | ✔️ |
| Banana Pi | ✔️ |
| Odroid | ✔️ |
| Orange Pi | ✔️ |
| ROCK Pi | ✔️ |
Connecting multiple HATs from different manufacturers can introduce pin conflicts which prevent your boards from working correctly. This usually only happens with HATs which are not designed to stack.
Compliance
UL 796 certified manufacturer
RoHS compliant (lead free)
CE & UKCA compliant (certificates)